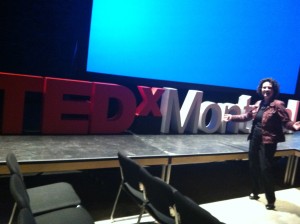 Supposedly it takes a village to raise a child. I also learned that it takes a village to help speakers prepare for a TED talk. In May 2015, Katy Yam, co-producer of TEDxMontreal, approached me to meet with her and Christian Porowski, a member of the Curation Team, to discuss a talk based on my work with survivors of genocide. We met for two and a half hours at a nearby coffee shop and brainstormed several talk ideas. I left feeling excited and energized by their thought-provoking questions. Our discussion led to a follow-up meeting several weeks later to hone in on an idea they wanted to present to the Selection Committee: The Contributions of Holocaust Survivors and the Lessons they Teach Humanity about Recovery from Genocidal Trauma. Katy believed I had an important perspective worth sharing – a paradigm shift about Holocaust survivors – because I see survivors as contributing members of society, not as scarred victims. She saw its relevance for survivors of traumatic life events in general. Katy helped me prepare for the next meetings by providing me with articles and videos such as: Chris Anderson's, the head curator and mastermind behind TED, video on how to create a killer TED talk https://hbr.org/2013/06/how-to-give-a-killer-presentation and June Cohen's video that explains how to give a great TED talk https://www.youtube.com/watch?v=RVDfWfUSBIM
In mid-August I was selected as a speaker for TEDxMontreal 2015. I was paired with Robert McKenzie, from Boston, who is a volunteer coach for speakers. He worked with me on talk development and delivery. I was also given a speaker's guide of the "dos and don'ts on how to give a great talk." These reference materials supported my work with Robert. Over the next few months, via Skype and emails, Robert mentored me with his sage advice and helpful tips. For example, he encouraged me to memorize my speech. Even though I am an experienced public speaker and university lecturer, I rely on notes when making presentations. Initially I had reservations about memorizing my presentation because I was worried about memory lapses. Robert provided me with helpful memorization tips and, in the end, I was able to deliver my talk from memory. Robert also sent me links about the structure of great speeches and suggested that I rehearse my talk as much as possible.
For the next three months I immersed myself in TED talks. I reviewed the literature, watched TED talks online and spent hundreds of hours rehearsing and practicing in front of diverse audiences – from family and friends to colleagues at McGill University and the Cummings Centre. Robert encouraged me every step of the way. So did my friends and family. Raymond Barry helped with editing and delivery preparation. My children, Andrea, Joel, Rhonda and brother, Allan provided support and encouragement.
On the day of my talk, everything was being streamed live on the Internet and was being filmed. I was very nervous before I went on the stage because I did not feel as confident as I wanted to be. As I walked out, there was also a technical glitch with my first slide that increased my anxiety. It was not going well. Then, eight minutes into my fifteen-minute talk, my talk was stopped! I was called off the stage and told I would have to begin again. Apparently my earring was touching the microphone and causing sound problems.
This turned out to be a blessing in disguise and I began to feel relieved when the audience showed their support. As I returned to the stage, their resounding compassionate applause made me feel supported and empowered. This energy helped me gain my composure and confidence. When I took my position in the center of the stage the second time, Robert's words to "command the stage" sank in. I delivered the best talk of my life. Many people came up to me after the talk and commented on my calm composure and professionalism after the technical issue. Several told me that I modeled the resilient behavior I talked about in my presentation. I was flying high!
I want to thank the TED Curation Team who was especially supportive. Throughout this process I interacted with a dedicated community of TEDx volunteers who work tirelessly behind the scenes. They are interested in "ideas worth spreading," have a social conscience, and are highly motivated to help presenters excel so we can deliver a thought-provoking talk. They put their resources at our disposal and took great pride in watching us shine. I felt cared for and valued by these committed volunteers. I am especially grateful to Katy Yam, an inspiring, hard-working leader who knows how to get the best from people. I am also grateful to Christian Porowski, Robert McKenzie, Catherine Brosseau, Alida Esmail and the entire TEDxMontreal Curation Team for supporting all the presenters and creating an exceptional event that I will treasure for the rest of my life.
The author's TEDx talk is available on Tube: Genocide Survivors: Contributors, not Victims.
Social Share