RECOVERING FROM GENOCIDAL TRAUMA:
An Information and Practice Guide for Working with Holocaust Survivors
By Myra Giberovitch, MSW, PSW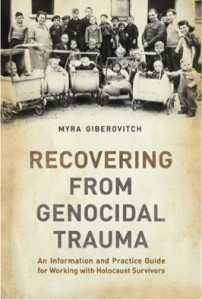 Recovering from Genocidal Trauma is a comprehensive guide for understanding Holocaust survivors, responding to unique needs, and developing specialized services. Myra Giberovitch documents twenty-five years as a professional social worker, researcher, educator and community layperson from an "insider's" perspective as a daughter of Auschwitz survivors. She uses auto-ethnography in an accessible style to record  experiences and explain the socio-cultural and historical context illustrated by her family's journey in prewar, wartime and postwar years.
Myra employs a strengths-based practice philosophy that begins by listening to and learning from Holocaust survivors. She draws upon current research and practice literature from social work, sociology, medicine, neuroscience and gerontology to develop innovative service models and programs, apply practical techniques, and employ individual and group interventions to empower survivors as they recover from tragedy and adversity. She discusses limitations of viewing survivors from primarily a pathological perspective and provides a balanced perception by discussing adaptation and achievements, vulnerabilities related to war experiences, and challenges of aging. This book is a valuable resource for anyone who studies, interacts, lives, or works with survivors of mass atrocity.
Topics include: mass atrocity crimes and international human rights legislation; survivor contributions to society; the therapeutic relationship; psychological and environmental factors that mitigate trauma and aid psycho-social adjustment; interaction between trauma and aging; group services; intergenerational programs; environmental triggers; therapeutic techniques and responses to emotional reactions; vicarious trauma and self-care; and recommendations for a national resource for mass atrocity survivors. Includes case examples; glossary; and comprehensive references.
For more information, or to purchase click here