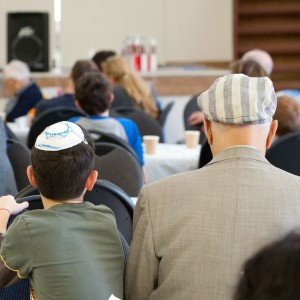 Cheryl Bender, coordinator of Jewish West Island Family Institute (WIFI), approached me last August to share her idea to have an artist paint 18 canvases about Holocaust survivor experiences. I liked her idea and wanted to involve members from the Drop-in Centre for Holocaust Survivors at the Cummings Centre. The members became excited about this opportunity for two reasons: first, it gave them an opportunity to interact with young families and talk about prewar, wartime and postwar experiences and, second, they would be able see their experiences depicted on canvasses as a legacy for the community.
During the following months survivors were consulted about all phases of this project. During two brainstorming sessions, artist Sarena Miller was able to capture visual images from the survivors' stories. For example, one survivor shared a story about her grandfather. He was a German war hero with medals from World War I. She remembered he was later forced to sit on a yellow bench in Germany to identify him as a Jew. Another survivor remembered being pushed out of a small window on the cattle train as it made its way to the concentration camps. His sisters wanted him to survive. He remembered landing on his head, then making his way into the woods. Sarena brought these images to life by drawing them in charcoal on the canvasses. She wove the images into one large mural covering all 18 canvases. Survivors provided feedback and adjustments were made.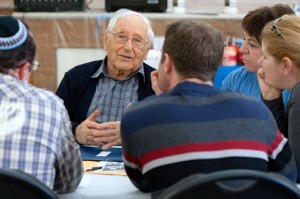 Eventually the program evolved into three community art workshops that took place from January to March, 2014. Survivors and families with children, ages 10 and up, participated in this phase of the project. The workshops provided an opportunity for participants to interact and paint the canvasses together. Before the workshops began, I held a sensitization session with the adult participants. I wanted to prepare them for their interactions because many had never met a survivor and didn't know what to expect. The session provided an understanding of Holocaust survivors and their experiences, taught interviewing skills, and explored participants thoughts and feelings about the program. Their primary concern was causing survivors pain if they asked them questions about their war experiences. I reassured them the survivors in our Drop-in Centre were used to talking about their experiences and were looking forward to the exchange. In fact, the survivors had composed questions they felt comfortable being asked. 
We used various program media to guide and facilitate the discussion. This included the list of questions composed by the survivors and maps of pre-war and wartime European countries. The maps helped to facilitate and situate the survivors' reflections. Some of our members brought articles they had written about their experiences and encouraged the students and parents to share them with their schools and social groups.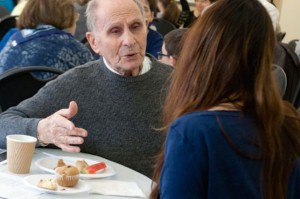 Based on the feedback, this inspirational program impacted the participants in meaningful way. There were many memorable moments. Two stand out for me. Most significantly, members of the West Island community interacted with survivors and got to know them as real people. In the beginning some of the participants were apprehensive about interviewing survivors. They had never met a survivor before and weren't sure what to expect. Once they did, they became comfortable around them. They were able to change their misconceptions and experienced survivors as real people who can be funny, are capable of smiling, and have warmth, happiness and love in their hearts. They also learned important life lessons from a group of individuals who experienced the dark side of humanity and still maintained the values embodied in mentschlechkeit: love of family, community, and traditions of the past, and respect for the sanctity of life. The survivors experienced a community that welcomed them, was interested in their experiences, and genuinely cared about them. The survivors were able to experience themselves as "witnesses to history" who were passing on their legacy of remembrance to future generations.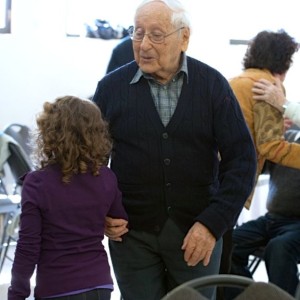 The other memorable moment for me was listening to Joseph Fishman, wearing his striped concentration camp cap, proudly leading us in the singing of The Partisan Hymn, Oh Canada, and the Hatikvah. Each of these hymns holds special meaning for the survivor community. The last line of The Partisan Hymn, "mir zainen do" underscores their survival. Oh Canada shows their gratitude to this country for allowing them in and the Israeli anthem fills their hearts with pride for their beloved state of Israel.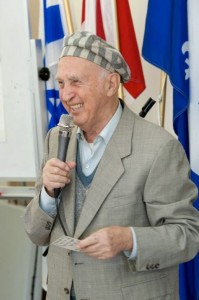 The canvasses were unveiled at a community vernissage on April 6th at the Dollard Civic Center. I'm sure this memorable program will remain in the hearts and minds of everyone who participated for years to come.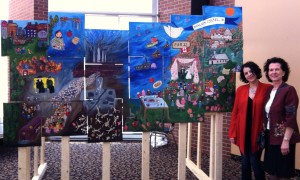 Social Share