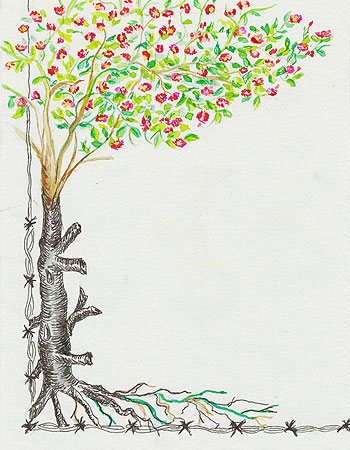 At the end of the war, as survivors emerged from the abyss, they had to cope with their monumental losses. Families and friends were murdered and their homes, communities, and communal institutions were gone. Their culture and way of life had been destroyed by the Third Reich which labeled them as different, brutally uprooted them and targeted them for extinction through mass murder.
Some managed to keep body and soul together during the atrocities. They survived the death camps, hid where they could, fought with opposing forces, or managed to flee. Many made their way to the displaced persons camps in Europe. They began making new roots. Here they married other survivors, gave birth to a new generation, and involved themselves in cultural, religious and educational activities. The Partisan hymn Zog nit keyn mol as du geyst dem lestn veg (Yiddish: Never say that you have reached your journey's end) became a rallying cry for the survivor community. The last sentence of the Partisan hymn underscored their mission: mir zainen do (Yiddish: we are here). Many survivors emigrated and tried to establish roots in several countries before finding a place to settle. Slowly they rebuilt their lives by instilling old-world values, beliefs and knowledge into their new communities. They reinvented themselves by learning new languages, trades and professions. Some became doctors, lawyers, scientists, politicians, and entrepreneurs. They filled important roles in the cultural, religious and institutional development of their communities as educators, rabbis, cantors, philanthropists, writers, artists, and community leaders.
Today, survivors are parents, grandparents, and great-grandparents. Many speak out about human rights violations and insist on safeguards to prevent racism and genocides so future generations learn from their ordeals. They continue to bear witness by speaking to groups about their experiences. They take nothing for granted and cherish their relationships. Among the things they hold important are family, friends, health, and a refrigerator filled with food.
Artist Suzana Kohn is one such survivor from Yugoslavia. She emerged from Auschwitz to rebuild her life. Her story appears in the book Preserving Our Memories: Passing on the Legacy, a memoir project of the Drop-in Centre for Holocaust Survivors at the Cummings Jewish Centre for Seniors. In it, she says, "Actually I'm a great-grandmother for the sixth time, which would leave Hitler turning in his grave!" She drew the Recovery Tree as part of this group memoir project.
I observe that Holocaust survivors who speak to groups about their experiences talk about the importance of "passing on their legacy" by bearing witness to the atrocities they endured in the hopes that the world will not forget. They also pass on another legacy relevant for survivors of other traumatic events. They demonstrate by example that human beings can adapt, rebuild and recover in the aftermath – that the human spirit lives on. The Recovery Tree reminds us of this inspirational message. It provides hope for all survivors who struggle to rebuild their lives.
Social Share