Resilience: Transcending Victimization
 Myra's TEDxMontreal presentation was posted on Jan 17, 2016.
Holocaust survivors are ordinary people who have lived extraordinary lives. They experienced the dark side of humanity and have much to teach us about adaptation, resilience and recovery. Using a strengths-based approach, Myra Giberovitch explains how we can change our perception of survivors from traumatized victims to contributing members of society. View her presentation here: Genocide Survivors: Contributors not Victims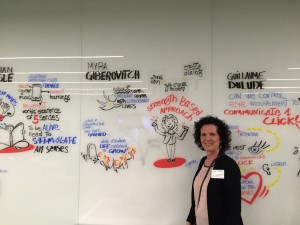 Photo Caption: I'm standing in front of Lynne Lamarch's visual fresco about my TEDxMontreal talk. We were at the Innovation Cocktail hosted by Deloitte and TEDxMontreal on January 25, 2016 for the presenters and organizers of TEDxMontreal 2015. Great fun reconnecting and sharing stories!
Social Share