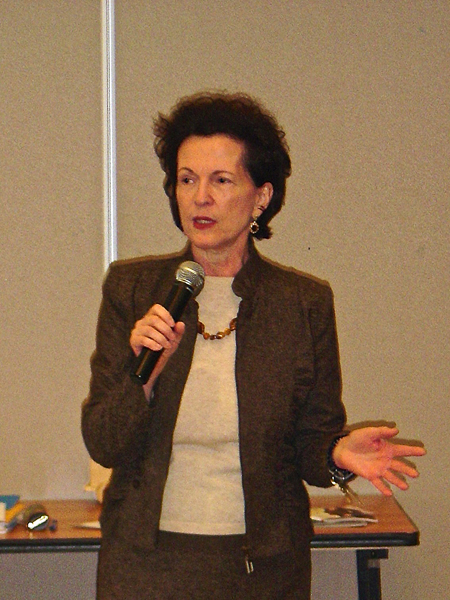 Workshops focus on two areas: understanding and interacting with survivors; interacting with survivors and self-care practices. Myra conducts interactive training workshops for:
Social service and healthcare providers
Homecare workers
Non-healthcare groups who work with survivors including:

writers and documentary film makers
students and teachers participating in inter-generational programs
individuals planning to interview survivors about their experiences
community sponsored activities
memoir project

Family and friends of survivors
Understanding and Interacting with Survivors
Helps participants understand survivors and gain confidence in their interactions with them. Healthcare and social service providers will enhance their knowledge and improve their skills in working with survivor populations.
Workshop may be customized to include:
Understanding the historical context
Psychosocial issues (e.g. caregiving, institutionalization, bereavement)
Demographics and diversity
Impact of trauma
PTSD and the impact of ageing on traumatic memory
Practice issues pertaining to survivor populations
Preventing and responding to environmental triggers
Integrating strengths-based theory into practice
Person-centred trauma-informed practices
Adaptation and resilience
Trauma-informed programs, services, and interventions that empower survivors
Specialized survivor-assistance resources
Complementary and alternative therapeutic approaches
Click here to see past workshops
Self-care Practices
These workshops are designed for social service and healthcare providers in the public and private sectors.
"I believe that training in self-care is necessary to deal with the potential hazards of our professions. Stress, burnout and vicarious trauma make us less effective in our work. Self-care practice mitigates these stressors and improves our well being by helping replenish and regenerate our internal resources."      Myra Giberovitch
Workshop topics may include:
stress reduction
relaxation techniques
mind-body techniques
wellness strategies that integrate a mind/body/soul approach
vicarious trauma and its prevention
vicarious resilience